---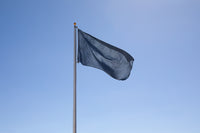 Byron Kim
Sky Blue Flag, 2020
Indigo dye linen flag, grommets
48 x 84 in (unframed)
Edition of 5 + 1AP
Sky Blue Flag attempts to blend into the sky, playing on the tensions between representation and abstraction. Kim uses the 4:7 ratio of the Mexican flag for the work, rather than the United States's 4:6 ratio. The color is achieved using natural indigo dye and is matched to the skies of Ciudad Juárez, Mexico, where the flag was fabricated in collaboration with Ni en More, a women's fashion and activism collective.
A portion of the proceeds will also benefit JOLT, a non-profit dedicated to amplifying the political voices of young Latinos.
Ballroom is thrilled to present limited edition flags by artists Lisa Alvarado, Jeffrey Gibson, Byron Kim, Kameelah Janan Rasheed, Hank Willis Thomas, Naama Tsabar, and Cecilia Vicuña based on their original commissions for the exhibition unFlagging.
Raise your artist flag wherever you are, and support Ballroom Marfa! Proceeds from the editions ensure that Ballroom continues to commission new work from artists, musicians, and visionary thinkers of all backgrounds. Please check below to see when works are available for purchase.
Contact development@ballroommarfa.org with questions.
Shipping billed to purchaser separately. Rates based on location and services requested.