---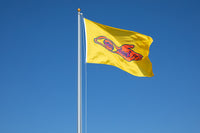 Cecilia Vicuña
Ver Dad, 1974/2020
Double-sided poly silk flag
48 x 72 in (unframed) 
Edition of 4 + 1AP
Ver Dad 1974/2020 is a limited edition flag by Cecilia Vicuña. This work, in an edition of 4, was originally commissioned for Ballroom's fall 2020 exhibition unFlagging. Placed at the center of an eye is the word "ver," which translates to "to see," alongside the word "dad" in the palm of a hand. Put together "verdad" means "truth." 
The flag's powerful imagery and vibrant colors originate from a 1974 drawing made while the artist was living in London, after fleeing the Pinochet regime in Chile. The drawing is part of a series entitled PALABRArmas, an invented word by Vicuña, which translates to "word weapons" or "word arms."
In addition to the flag, you will also digitally receive the audio that accompanied the flag in the exhibition. 
Ballroom is thrilled to present limited edition flags by artists Lisa Alvarado, Jeffrey Gibson, Byron Kim, Kameelah Janan Rasheed, Hank Willis Thomas, Naama Tsabar, and Cecilia Vicuña based on their original commissions for the exhibition unFlagging.
Raise your artist flag wherever you are, and support Ballroom Marfa! Proceeds from the editions ensure that Ballroom continues to commission new work from artists, musicians, and visionary thinkers of all backgrounds. Please check below to see when works are available for purchase.
Contact development@ballroommarfa.org with questions.
Shipping billed to purchaser separately. Rates based on location and services requested.