---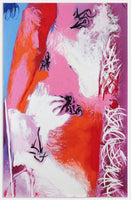 Donna Huanca
QUIPUS FUEGOS, 2023
24" x 35.3"
Archival pigment print with oil hand embellishments made by the artist
Edition of 40, 4 AP, 1 BAT, 1 PP
$2,000 

Ballroom Marfa and Skowhegan School of Painting & Sculpture present QUIPUS FUEGOS, a limited edition print by Donna Huanca. Drawing inspiration from her profound exploration of the human body, its relationship with space, and the interplay of identity and perception, Donna Huanca (b. 1980 in Chicago, US) is known for her immersive installations and performances encompassing painting, sculpture, sound and scent.
Inspired by natural cycles of birth and decay, the body and skin are ongoing points of focus, where she models them as both surface and material.
Her paintings layer multiple dimensions and temporalities by extending the life cycle of past performances into a new body of work, merging the transcience of performance with the permanence of painting. Huanca's works are deeply invested in ritual practice as a means for transcendence, meditation, and transformation. 
The image above is a representation of the editioned print. 
Shipping billed to purchaser separately. Rates based on location and service requested.