---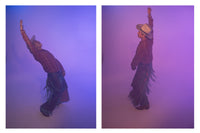 Kenneth Tam
Alfred Solo 1 & 2
14" x 18" each
Photographs (unframed)
Edition of 16 + 1 AP each

Alfred Solo 1 & 2 coincided with Kenneth Tam's solo exhibition at Ballroom Marfa, Tender is the hand which holds the stone of memory. Unraveling archetypes of masculinity, Tam's exhibition unfolds in two parts: a video installation, Silent Spikes, and a number of commissioned sculptural works.
Kenneth Tam (b. 1982) was born in Queens, New York, and lives and works in Queens, New York. Tam received his BFA from Cooper Union in 2004. Tam has held solo exhibitions at MOCA Tucson in 2022, ICA LA in 2021, Times Square Arts, New York in 2021; Queens Museum, New York in 2021; Madison Museum of Contemporary Art in 2021, The Kitchen, New York in 2020; Sarah Lawrence College, Bronxville, New York in 2020; Visual Arts Center, University of Texas at Austin in 2019; 18th Street Arts Center, Santa Monica, CA in 2018; the Minneapolis Institute of Art in 2018; MIT List Center for Visual Arts, Boston in 2017; and Night Gallery, Los Angeles in 2013. Tam has participated in group exhibitions at The Shed, New York in 2021, SculptureCenter, New York in 2019; 47 Canal, New York in 2018; Hollybush Gardens, London, UK in 2017; Hammer Museum, Los Angeles in 2016; and Museum of Fine Arts Houston in 2016. He is the recipient of a NYFA Fellowship in Interdisciplinary Work in 2021, Foundation for Contemporary Arts Emergency Grant in 2016 and 2019; California Community Foundation Fellowship in 2015; and Art Matters Foundation Grant in 2013 and has participated in residencies including Artist Lab at 18th St. Arts Center in 2018, LMCC Workspace in 2017-18, Pioneer Works in 2019, and the Core Residency Program at the Museum of Fine Arts Houston in 2015. Tam is faculty at the Milton Avery Graduate School of the Arts at Bard College, and beginning in January will be an Assistant Professor at Rice University.
Tam's work is in the collections of Hammer Museum, Los Angeles; Minneapolis Institute of Art, Minnesota; Solomon R. Guggenheim Museum, New York and Dallas Museum of Art, Texas.

This diptych is also available as individual prints. 
Shipping billed to purchaser separately. Rates based on location and services requested.