---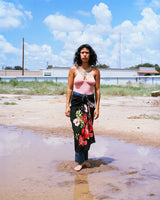 Star Montana
Maria, 2017
32" x 40"
Archival Inket Print
Limited edition of 10  
Ballroom Marfa is pleased to offer Maria, a limited edition photograph from Star Montana. This work, in an edition of 10, is currently on view in Ballroom's fall 2017 exhibition, Tierra. Sangre. Oro., with artist Rafa Esparza. The photograph is of artist Maria Garcia, one of the adoberas (adobe brick builder) who helped Esparza build adobe bricks for the exhibition.
Montana's striking medium format portraits of people of color are narrative works that explore inter-generational trauma, migration, and the representation of brown bodies. The majority of Montana's portraits are taken in her community in Los Angeles, however, Maria, was made in Marfa at the worksite where Garcia built bricks with other adoberos, artists and members of the Marfa community. 
Shipping billed to purchaser separately. Rates based on location and services requested.