---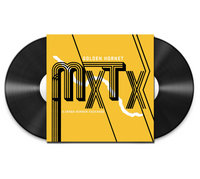 MXTX: A Cross-Border Exchange 
2022
Black vinyl
Two 12 x 12 inch records
The MXTX album is also now available on vinyl, fresh off the press! MXTX is a live performance, an album, and an open-source audio sample library crossing physical and social boundaries co-commissioned by Ballroom Marfa. Created through a collaborative exchange, the curated, gender-balanced project involves more than forty DJ-producers and composers from both sided of the Rio Grande. 
Golden Hornet's Graham Reynolds, well known for his original scores to Richard Linklater films, along with three other extraordinary co-curators invited a carefully-chosen group of 40 musical artists from both sides of the Rio Grande/Bravo to participate in the first phase of MXTX; the build out of an open source audio sample library.
Released through Six Degrees Records, The Austin Chronicle called the album, "a whole damn vibe, crossing Nortec Collective glitchy flavor with Thievery Corporation groove and atmosphere while bringing a small army of collaborators from both sides of the Texas-Mexico border into the fun."