---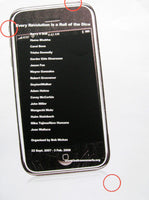 Limited-edition poster from our fall/winter 2007 visual arts exhibition, Every Revolution Is a Roll of the Dice. This show was an exhibition of sculptural objects that, by way of their presentation, can be seen as actors on a stage. The gallery became a landscape in which various objects, particularly figurative objects, were isolated in small groupings to create a heightened sense of interaction between them.
Designed by Guyton/Walker, the team of New York artists Wade Guyton and Kelley Walker, whose work was also in the show.
Dimensions: 18" (W) x 24" (L).