---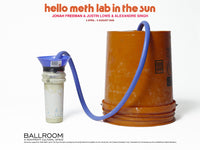 Limited-edition poster from Ballroom Marfa's spring 2008 exhibition, Hello Meth Lab in the Sun. Hello Meth Lab in the Sun was a collaboration between three early career artists, Jonah Freeman, Justin Lowe and Alexandre Singh. In an installation that literally transformed Ballroom's gallery spaces into a labyrinthine assemblage of rooms, hallways, closets and observation platforms, Hello Meth Lab in the Sun is a rumination on the theme of alchemy, uncovering of some of the sites of alchemical transformation in the modern world.
Designed by Jonah Freeman and Justin Lowe.
Dimensions: 24" (W) x 18" (L).