---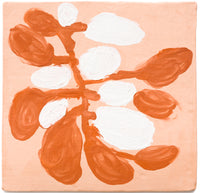 Solange Pessoa
Untitled, 2020
glicée print
40 cm x 40 cm (15.75" x 15.75")
Edition of #100
$500
Ballroom Marfa is pleased to offer Untitled, 2020 a limited edition
giclée print of 100 by Solange Pessoa based on a unique work from
2016 that responds to the natural environments of Brazil, drawing
from biomorphic, primordial forms and organic patterns.
Pessoa's expressive and telluric work draws inspiration from a myriad
of sources: nature, the Baroque, dreams and the unconscious,
Tropicalia, prehistoric cave paintings and carved tools, Land Art,
traditional craft, ancestry, Surrealism, and poetry.

Shipping billed to purchaser separately. Rates based on location and services requested.